Monday, January 22, 1996, the prefabricated Observa-Dome sections arrived in a 48-foot enclosed van and were unloaded on-site. Reassembly began immediately, beginning with the dome tension ring and supporting arch structure.
Tuesday, Observa-Dome personnel attached the dome skin sections to the dome tension ring and arches. The remaining skin flange bolts, "T" gasket, and slit frame splice plates were installed on Wednesday. Shutter-actuating tracks and tubes were also bolted into place.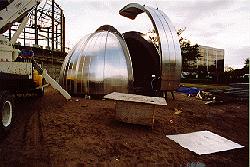 Thursday, January 25, the dome shutter sections were bolted together, lifted into place, and bolted to the track mechanism. All shutter actuating mechanisms, including the cable, pulleys, gear motor, limit switches, and reversing relays, were installed and tested. Additionally, an interior rubber shutter flashing was installed. The base angle ring sections, horizontal and vertical casters, grout, electrical power bars, and azimuth drive motors were hoisted onto an intermediate roof level.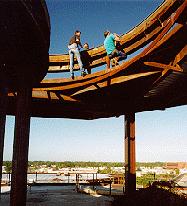 Friday, the base angle ring and dome casters were set in place atop the building. Leveled and rounded to plus or minus 1/16 of an inch, the base ring was secured to the building steel structure with 48–1/2-inch anchor bolts.
Saturday, the space between the base ring and steel structure was filled with a non-shrink grout to provide further support.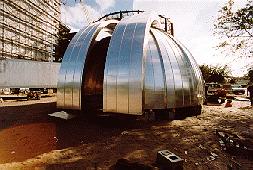 Monday, January 29, the dome was given a final washing on the ground to remove any fingerprints and dirt incurred during reassembly.
Tuesday, final preparations for lifting the dome atop the building were completed, and an area was cleared between the dome and the building in which to assemble and place the crane early Wednesday morning.
Wednesday morning, 10 am, the 30-foot diameter Observa-Dome was lifted into place 96 feet above the ground and over 100 feet from the edge of the building. A 300-ton capacity hydro crane with a 235-foot boom was used to make the lift, requiring approximately 30 minutes.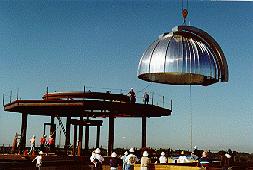 By the end of Thursday, all flashings, skirting, and electrical components had been installed. All rotating dome functions were tested in preparation for the final acceptance testing scheduled for Friday morning.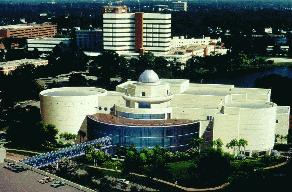 Friday morning, February 2, 1996, all final acceptance testing was accomplished successfully and witnessed by the Directors of the New Orlando Science Center, construction management, and by the project architect. The total time for Observa-Dome personnel on-site: 12 days!
The installation crew from Observa-Dome would like to take this opportunity to thank
Scott Niskach; Orlando Science Center, Maynard Breeden; Baker Mellon Stuart, Peck, and
Marsha for their help and hospitality.